Our trip proposal to Namibia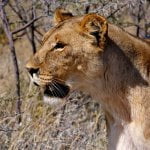 Namibia's landscape is diverse, unique and vast; it extends for almost three and a half times the UK. Namibia is a land of a million landscapes, an extraordinary nature and like a open geology book, it's rich fauna, friendly people…to fully appreciate it, you must visit!
Our tours in Namibia offer a variety of itineraries and activities, with just as many accommodation types in order to meet your demands and your goals.
Our tours, as well as our self drive tours, will allow you to discover the natural beauty of this area. You will see breathtaking landscape, while searching for the abundant fauna in the Namibian national parks and meeting the Himba, Hereo or the Boscimani people.
Location
Situated in the heart of the Namib Naukluft Park, they are the symbol of Namibia and are amongst the tallest in the world; The dunes may have the shape of a star or a parabola, and by walking over the thin peachy color sand, you are leaving your footprints in one of the world's most antique deserts. The magic of the desert is like no other, the blue sky creates a stark, breathtaking contrast with the color of the dunes: this is one of the reasons why Namibia is considered every photographer's paradise. One of Sossusvlei most spectacular locations is Deadvlei, which takes its name from the old, skeleton-like dead acacia trunks. To arrive in Sossusvlei you must go through a large "corridor" formed by the Tsauchab river (almost always dry). This river never makes it out to the Ocean due to dunes that have formed along its path. You will see the Oryx gazelle, the Springbok, jackals, ostrich, insects and birds. More difficult to see, the brown hyena, Cape foxes and wild cats. A plant that is typical of this area is the Nara (Acanthosycios Horridus) which is and endemic evergreen, and its fruit a resource of nutrients and water for animals. The park can be visited all year round.
The Ocean touches the coast of Namibia in all its length, the waters – which are cold due to the Benguela current coming from the South Pole – are deep and rich in fish. A while back, the coast was dispersed with the relics of abandoned ships, but also whale carcasses, and the skeletons of dead sea lions and men, as well: this is why the coast of Namibia is called also Skeleton Coast. There are various types of coast: vast sandy beaches, large salt mines, rocky beaches and finally the more suggestive ones, with dunes that disappear amidst the waves of the Ocean. Fog is a common event on the coast: covering everything with a thin layer of micro drops, it is a source of life for many animals and endemic vegetation and creates and amazing living desert.
Cape Cross is the second largest colony of fur seals in Namibia (Arctocephalus pusillus). The colony can be visited year round.
Swakopmund is the main city, with its Bavarian style buildings.
Walvis Bay is the main port of Namibia and has a vast lagoon, rich with sea birds and in its waters you may find the Benguela dolphins (endemic), fur seals, and humpback whales (during certain times of the year).
Sandwich Harbour offers an amazing landscape, with the golden dunes meeting the cold Atlantic Ocean; it is situated 40 km south of Walvis Bay, in the Namib Naukluft Park.
Ludreiz is a small, almost surreal, windy town situated in southern Namibia. The local attractions are a visit to   "ghost town " Kolmanshop, the Diaz Point peninsula and its small island (weather permitting).
These cities offer many outings to appreciate the desert, the lagoon and the ocean.
Its landscape is unique. With a surface of 22.912 square km. There are 114 mammal species in the Park and 340 bird species year round. You have the opportunity to visit the park, which is scattered with natural (Artesian springs) and artificial water wells, giving us one more chance to watch the animals drink. Elephants, giraffes, horyx, sprinbocks, kudu and many other animals. In the park, you can see the predators, such as the powerful lion, the hyenas and – more rarely – the shy leopard, the cheetah. Etosha Park is a vast plain, with savannahs alternating with forests of mopane or acacias, an antique dried out basin, salt deposits and 4.590 km of white color basin called Etosha; in the local language this means "the great white dried-out place" The park can be visited year round.
Kaokoland is situated in the north-west part of Namibia, in the Kunene region. It is one of the most uncontaminated areas of Southern African. Kaokoland is enclosed by the Hoanib river at south and by the perennial Kunene river up north, which also constitutes a natural border between Namibia and Angola. The landscape is mostly mountainous and the climate is dry: nonetheless Kaokoland has many water flows, that are dry on the surface for the most part, but with a rich aquifer. Kaokoland is inhabited by the Himba people, and has a very rich fauna which has adapted to this dry territory, such as lions and "desert elephants". These elephants exhibit some unique behavior and are able to find sustenance even in area that offers very little resources. Other animals in the area are orix, kudu, springbocks, ostrich, giraffes, mountain zebras and lions who have only recently repopulated these remote areas.
Opuwo is an hectic city, where different tribes reside (Hereo, Himba, Ovambo, zemba…) and live in full respect of their diverse hetnicity. They sell, buy or trade cattle.
Epupa Falls is a group of falls originating from the Kunene waters, and are situated 160 kms north of Opuwo. This is a very suggestive place, thanks to its amazing scenario of water, palm trees and local culture.
The Himba people are proud and friendly: they originate in the great African lakes area, meaning they are Bantù. Himba have maintained most of their traditional life style such as milking cows, grinding wheat etc….their pace is dictated by nature itself, such as their cattle's migration which is dictated by the quality of pastures. The villages have a circular shape and the cattle's enclosure – the village's wealth – is located at the centre. The huts have a conical shape, the entrances always point to the cattle's enclosure, and are made of Mopane branches manually painted with mud and excrements. The women wear a simple ochre colored skirt, the most interesting part is the ornaments they wear to represent their life journey. Each object has a specific meaning: married, one or more children, looking for a husband, mourning the parents, puberty, bride-to-be….These women are also known for covering their entire bodies a ochre colored cream, obtained by butter and ochre powder.
The travelers will have the possibility to have a friendly meeting while observing the aspects of the tribe's daily routine while freely taking pictures or filming.
It is situated south of Kaokoland, in the Kunene region and inhabited by the Damara people. The habitat is dry and dominated by mountains with bizarre and suggestive shapes. The colors are very stark: rusty red stones against the intense green of Damarana Euphorbia and BOSCHIA . The area is rich with animals that have adapted to this hostile environment; this naturalistic area is also very important, and is protected by many environmental associations such as " Save the rhino Trust" and "Desert Lion". Damaranand offers a variety of tourists attractions.
The Petrified Forest originated 280 million years ago, when an huge flooding destroyed a vast forest. The tree trunks that rolled downhill covered in mud and with a high silica content, became fossils. This site has been declared a national monument.
The Burnt Mountain originated 160 million years ago through a strong volcanic activity in the area. Organ Pipes is a small valley where you can see the hexagonal Dorolite stones which look like organ pipes.
These are located in the Damaraland area, and pretty much sum up the history of art in Namibia. Here you will be able to see incisions and cave paintings dating back to 4000 years ago, although the dating is uncertain. These drawings represent animals, footprints and man that carry a bow, hunting scenes and tribal ceremonies. For the most part, the graffiti are done on sandstone using bones or flintstones. The drawing are located in sheltered areas such as caves or cave hollows and are colored with pigments obtained from plant juices, crushed colored stones, eggs, blood, shells…and are drawn using feathers, sticks or fingers. The authors of such drawings are the Koi-son people, the forefathers of the modern Bushmen.
Twyfelfontein has been declared part of the UNESCO World Heritage for its great variety of graffiti.
Brandberg is the tallest mountain in Namibia: 2573 mts  and of volcanic origin. Here you can admire many drawings and the "White Lady", the symbol of Namibian rock paintings.
It is located in the southernmost part Of Namibia, at the border with South Africa. It is the world's second largest canyon (in width): 550 meters deep, a 27 km width and about 160 km long. It originated from a tectonic event called "Graben" which began about 350 million years ago and caused engulfment. The Fish river meander through this canyon continues the erosion process that we can admire from above.
General Information
Entry formalities: Please contact your nearest Namibia Embassy or representative.
Clothing and luggage: we suggest you travel with casual, light, practical and comfortable clothing in neutral colors. Bring also a few warm outfits, along with a light wind jacket. Hiking boots and light shoes and/or sandals for your free time. Do bring: a hat/cap, sunglasses, moisturizing lotion and sunscreen, insect repellent, bathing suit (for the summer) a small flashlight and binoculars. During the winter season (from June to August) bring mostly warm clothing and semi-light clothing for the central hours of the day. We recommend you use duffel bags, even more so if you have chosen an itinerary that requires domestic travel with baggage limitations. Most of the lodges/camps offer laundry service.
Medical assistance: in the main cities there are hospitals and small clinics. In the rural areas, you'll receive basic assistance. We suggest you bring your own medicines for personal use. For all of our trips, it is mandatory that you have personal insurance that includes health assistance and emergency evacuation.
Vaccinations and Malaria: no vaccination is required. Malaria is not present in most of Namibia but we suggest you talk to your local doctor in order to choose your malaria prophylaxis, especially during the rainy season. For prevention, we suggest you wear light color clothing, with long sleeve shirts and trouser, use insect repellant at sunrise and sundown, and sleep under a mosquito net.
Electricity: electricity in Namibia is 220/240 Volts and 50 Hertz and large, round 3-pole plugs are used. Universal plugs do not work. Most lodges have adaptors or European plugs. Some lodges have solar panels/generators; in this case, ask for the staff's assistance in order to charge your batteries.
Weather: Namibia enjoys dry and warm weather. Summer season goes from September to May, the days are hot and nights are cool but from January to April you may have some rain (mostly localized showers) but never lasts long. It is quite an anomaly to have a year with intense precipitation. Winter goes from June to August, with cool days and cold – if not freezing – nights. Namibia has 300 days of sun, therefore you can visit all year round.
Language: the official language of Namibia is English, but German and Africans is widely used. The rural population speak their native language, such as Damara, Ovambo, Ovahimba…
Currency: the local currency is the Namibian Dollar, which is equal to the South African Rand in value, therefore both currencies circulate with no problem at all. Credit cards are also accepted, but do consider that at times they may not work for various reasons. You will find Banks and Exchange Bureaus in the big centers or at the airports, where you will be able to change Euro, British Pounds or US Dollars with no problem. There is no currency exchange facility inside Etosha Park and in Sesriem.
Safety: Namibia is a safe country, however we advise you pay attention. The occasional theft is always possible especially when visiting the city.